Corgilope
Creature Comfort since '06

Howdy and welcome to corgilope.com!

Corgilope is a company with a particular focus on creature comfort and curves. I combine fun shapes and quality construction to provide every customer with a unique costume that will make them feel like an awesome animal

Click the links below to navigate the site or click the Convention Catalog button to jump to the website that shows what I offer at conventions!
About
Corgilope is run by a single artist living in the city of brotherly love, Philidelphia! Fursuit making was my first job at the age of 16 and ever since, I have been striving to create costumes that can deliver gender and species euphoria to my customers through the unique and comfortable shapes that only a fursuit can provide.

When I'm not crafting fursuits I'm drawing or reading comics.
Feel free to use any pronoun when referring to me!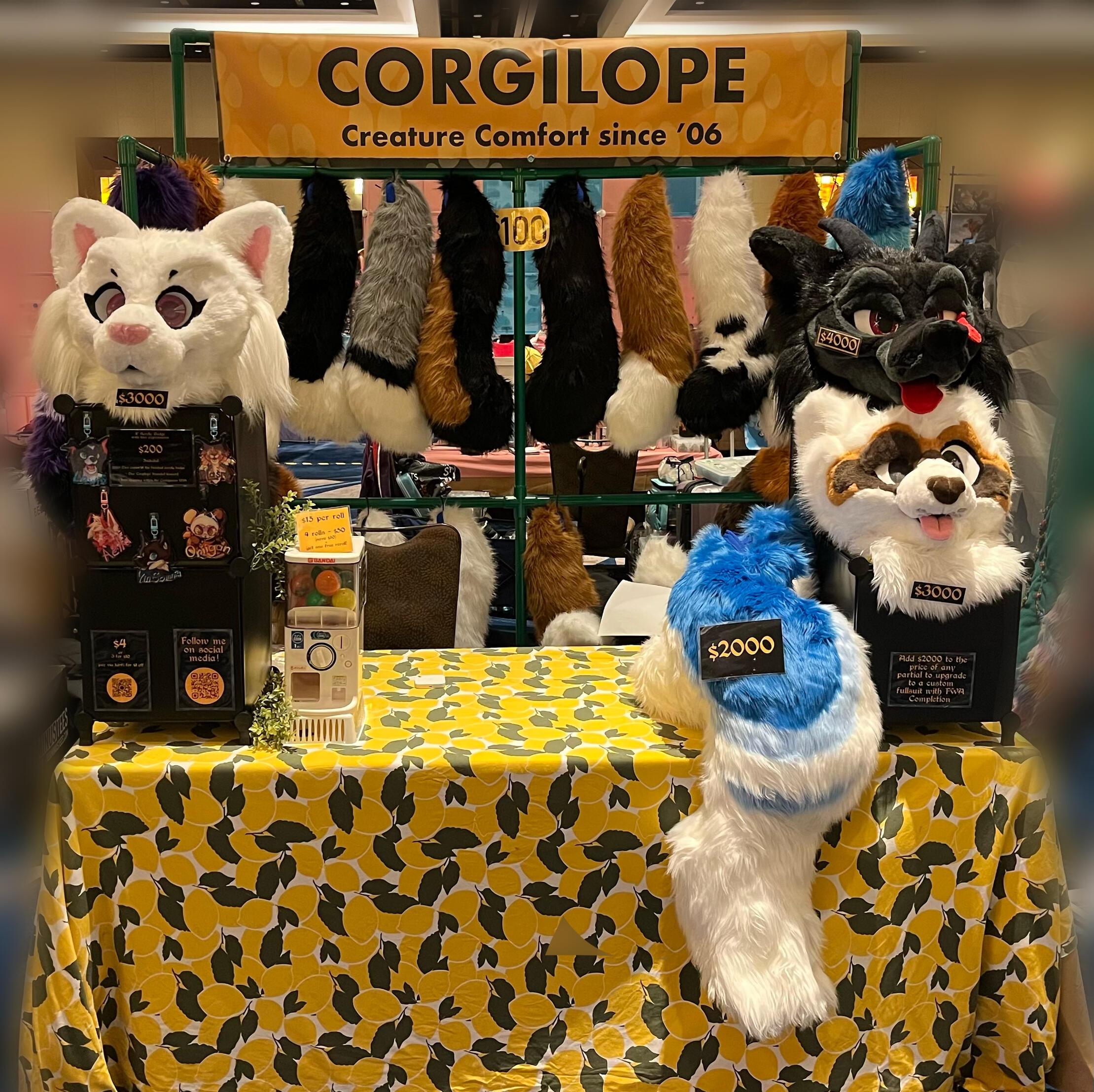 Contact
Corgilope is CLOSED for new commissions. I will open again Spring of 2023. Follow on social, linked below, to be the first to know when the form goes live!If you're looking for a custom quote you probably don't need one! Find out why in our FaQ or check out our PRICES to get a better idea of what your costume will cost.Question not covered in the FaQ? Send an email at any time!
prices
All prices are in USD
Full Fursuit
$5000
Price of padding included
- comes with a head, hands, feet, tail, and a bodysuit
- Requires: duct tape dummy, head, hand, and foot measurements
---
Bodysuit
$2500
Digilegs are $2000
- Feetpaws are included with Bodysuit and Digileg commissions
- Requires: duct tape dummy and foot measurements
---
Partial Fursuit
$3000
leg sleeves +$200
- comes with a head, hands, feet, tail, and arm sleeves
- Requires: head, hand, arm, and foot measurements
---
Head
$2000
- lined, mouth ventilation. Any eye type comes standard. Additional set of eyelids or tongue included free upon request
- Requires: head measurements
---
How long will it be before my fursuit is finished?
Fursuits are taken on in seasonal, three month rounds. This means that if you are accepted for the Fall season your fursuit will be done no later than December 1st.
---
Will I Receive WIPs [Work In Progress Pictures]?
Yes! After a commission is accepted the customer is sent a link to a Trello card where the artist will upload WIP images and notes as their costume is constructed. All customers will also receive emails when important stages of construction have been reached and their input is needed.
---
I don't know what I want/Do you take artistic liberty commissions?
I love working on artistic liberty commissions. You can provide a few features (species, preferred colors, expression, etc) and I can provide a custom character or deliver a surprise suit. Artistic liberty commissions do not cost more or less than custom fursuits of the same complexity.
---
Which foot paw is the left/right?
The foot paws we offer do not have a left or a right. The inside of our paws contain an elastic system that keeps the foot pushed forward and done providing a comfortable and secure fit. All you have to do is slide them on!
Do you accept payment plans?
Yes! All commissions start with a 40% non-refundable deposit but after that payment costumes can be paid off in installments. For those who wish to use this option an invoice will be created that can be used to make a payment whenever the customer is ready.
---
How do I get a quote?
Corgilope is a little different when it comes to quotes. It's easier for the both of us if I don't charge for every individual option so most costumes cost the base price seen on the PRICES page. If your character has a large amount of spots, stripes, or extra limbs (wings, multiple tails, etc) you can CONTACT me with a reference image and I'll give you a custom quote.
---
Does my costume come with a warranty?
Yes! All costumes come with a year long warranty that protects against all damage caused by faulty products or error in construction. If you receive your costume and it does not fit or feels uncomfortable you can return it for alterations. After your year-long warranty has expired, Corgilope will still repair your costume. CONTACT me for a quote.
---
Do you ship internationally?
Yes! All prices are given in USD and shipping is extra for orders outside of the contiguous United States but I love working with customers all over the world. International customers are responsible for paying at customs and import fees.
Terms & Conditions
By commissioning Corgilope you agree to all terms below
Communication
The artist will respond to all e-mails within 48 business hours.All official communication will be done through email. A customer can communicate with Corgilope through social media, or instant messenger but no agreement is official unless communicated and agreed to through email.The artist will contact the customer when work has begun on their costume and with important updates as they arise. The artist edits Trello weekly with updates on all projects, so this is the easiest way to see projects progress through the queue.If the artist asks for clarification, input, or payment and none is received for two months, a project will be considered abandoned.
---
Payments
All prices are in USD.A non-refundable 40% deposit is required on all projects before work will be started. After the initial deposit the costume can be paid off with a lump sum the following month or with monthly installments. Missed monthly payments incur a 10% late fee on the remaining balance. If two payments are missed consecutively, a project is considered abandoned. See the section on CANCELLATION below for more on abandonment.No costume will be shipped until paid off in full.
---
Cancellation
Corgilope retains the right to cancel a commission at any time for any reason. If Corgilope cancels, the customer will be refunded in full, including the deposit.If a customer wishes to cancel a costume before it is completed, they will be refunded, minus the non-refundable deposit. Customers will not be refunded once a costume is completed. All refunds will be issued to the original email address the invoice was sent to.A deposit or commission slot cannot be exchanged between individuals without the artist's prior consent. Customer's are chosen based on their request and requirements; without prior approval Corgilope will not work with individuals who receive their slot through a third party "commission slot auction".An abandoned project is considered a cancellation by the customer. The artist will email the customer letting them know their project is abandoned, at which time they will have six months to provide a means of return for their payments, minus the non-refundable deposit.Canceled and abandoned projects will be altered and sold.
---
Shipping
Costumes are shipped USPS. Base shipping (plus tracking and insurance) is included to all final quotes. If a customer would like expedited shipping or for the costume to be shipped by way of a different company, it will cost extra and will be quoted once the costume is completed. Fursuits are large. Most finished costumes will incur a "balloon" rate. Please keep this in mind if you want expedited shipping.Corgilope is based in the United States. International customers are responsible for knowing customs laws and fees and for paying such fees when their costume arrives.All packages require a signature upon delivery. Please make arrangements for this.
Work in Progress [WIPs]
Each customer will be provided with their own Trello card where status updates and progress pictures will be posted. Customers can subscribe to their personal card for constant updates. Corgilope will contact customers directly with the most essential updates. Progress pictures will also be posted on Twitter and other social media. If the customer would like their project to be secret until its debut, Corgilope needs to be notified up front.
---
Deadlines
Corgilope works in seasons: Spring (March-May), Summer (June-August), Fall (September-November), and Winter (December-February). If you want a costume for an event in July, it is best to order it for completion in the Spring quarter; a costume ordered for Summer completion can be completed anytime between the start of June and the end of August.
---
Warranty
All costumes have a one year warranty starting from the day they arrive. This warranty covers all problems resulting from construction and moderate use (popped seams, missing/chipped claws, etc). Damage resulting from negligence is not covered under warranty (lack of cleaning, improper storage, exposure to extreme conditions/use, etc).Before shipping your costume for repairs, please wash it and contact Corgilope to discuss a timeline for completion. Customers are expected to cover shipping one way, along with any customs fees they may incur.The warranty is void if:
a) alterations are made by any party other than Corgilopeb) the costume has been damaged by improper/extreme use (motor sports, skiing, etc.), improper storage, or lack of/improper cleaning. Please refer to our CLEANING GUIDE for tips on taking care of your costume.c) the costume is resoldRepairs can be made by Corgilope outside of warranty. Please contact us by EMAIL if you would like to discuss an alteration or repair.If there is any issue with your suit, please contact Corgilope immediately so that we can discuss alterations. If alterations are unable to reasonably fix the problem, a partial refund will be considered on a case-by-case basis.
---
Promotion
Finished costumes will be worn in house briefly for promotional photos and video. These photos can be used by the client for personal use. In addition to photos, the character names and likeness the costume is based off of will be used in promotional images, galleries, portfolios, and social media.
---
Performance
These costumes, while fun, lower dexterity, vision and are hot and heavy. These costumes are not meant to be worn as protection. By buying and wearing this costume you take on full responsibility for your safety. Corgilope is not responsible for any harm that comes to you while wearing our costumes including but not limited to stumbling, tripping, over heating, glomping, exhaustion, and snuggling. Stay safe animals!
By commissioning Corgilope you agree to all terms above